How to Know It's Time for New Forklift Tires
Unlike traditional vehicle tires, forklift tires double as the suspension system. With no additional shock absorbers or coil springs, the tires alone are responsible for cushioning the operator, the load, and the truck itself. Worn out or improperly maintained tires can damage the axles and become a safety hazard. They can even scratch docks and warehouse floors.
Your tires are critical to forklift performance and safety. If it's been a while since your tires were last inspected, use this guide to help you know what problems to look for.
What Causes Forklift Tires to Wear Out Faster?
If your tires seem to wear out prematurely, be aware of these factors that can shorten the lifespan of your tires:

Harsh environments: Forklift tires can wear out faster simply from driving on cracked or uneven concrete floors. Outdoor applications can also cause more wear and tear than indoor settings.
Incorrect tire type: Picking the right tires for the job can help them last longer. Some features to look for include cushion, pneumatic wheels, non-marking tread, oil-resistant tread, tear-wear resistance, poly tires, and more. If you're not sure what features are right for you, ask your material handling partner for help.
Lack of maintenance: Even if you use the best tires for the job, keeping them in good condition requires proper maintenance. This involves checking the air pressure on pneumatic tires, adjusting the forklift brakes, limiting oil and grease on the floor, and avoiding overheating. When you receive planned maintenance through Vitan Equipment, you can have a dedicated field service technician who checks your tires regularly.
Excessive operation: Driving at fast speeds, making sharp turns, and high usage can put added wear on your tires.
Signs You Need to Replace Your Tires
Forklift tires should be included in your routine maintenance program. If you run across any of these problems, contact Vitan Equipment to have a trained technician inspect your forklift tires immediately: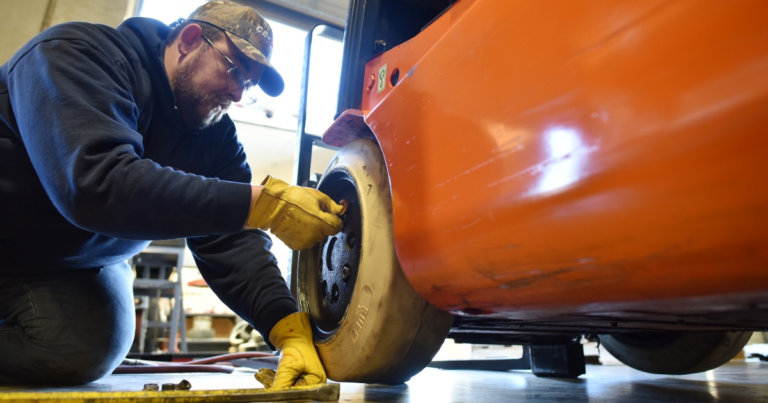 Visible wear line: All forklift tires feature a highly visible "wear line." When this orange band appears on the tread surface, you know you have about 100 hours of operational life left.
Chunking: If chunks of rubber are falling off your tires, they are no longer safe or efficient to operate. Decommission the forklift until you can replace the tires.
Tears and cracks: Watch out for imperfections in the tire's surface, which may be caused by driving over debris.
Bulging or unevenness: As with regular car tires, a bulging surface or uneven wear is a sign you need to replace your tires.
Replacing Your Forklift Tires
When it comes to repairing and servicing your equipment, you should rely on your trusted material handling partner. At Vitan Equipment, with our trusted partners, we can source and repair your forklift's tires. If you'd like to talk to a Vitan material handling consultant about getting your equipment inspected or your tires replaced, contact us today.