Dock and Door Installation and Repair Service in Western Michigan
At Vitan Equipment, we're here to help you properly install and service your loading dock equipment with our team of dock and door experts. Through our experience with customers, we have found that many companies fail to maintain their dock equipment properly. We know that your warehouse team is busy and loading dock and industrial door maintenance can be put on the back burner until it escalates, often making loading docks completely unusable.
With a team of dock and door experts located throughout Michigan, we can be your one-stop service provider for all your facility needs.
Knowledgeable, friendly technicians
24-hour emergency service
On-demand service when you need it most*
Repair of breakdowns
Data tracking of all service and repair requests
Long-term solutions to minimize downtime
Loading Dock Installation Service
We can handle the installation and regular maintenance on your industrial doors and loading docks. Our technicians are ready to guide you on what products you need, as well as install and service:
Industrial Doors
Sectional overhead
Rolling steel curtains
Fire doors
Dock Equipment
Dock levelers
Dock bumpers
Truck restraints
Safety integrated control panels
Specialty Doors
High-performance doors
Hollow metal and fiberglass doors
Vinyl roll-up and bug doors
Dock Shelters/Seals
Fixed shelters
Foam dock seals
Canopies
We also offer Overhead Door™ products through our sister company, Fraza, for commercial and industrial applications. If you're interested in learning more about updating the products in your warehouse, visit our Overhead Door Installation and Repair page.
Vitan Equipment's Dock and Door Service
We provide industry-leading service and repair through:
Knowledgeable, friendly technicians
24-hour emergency service
On-demand service when you need it most* (*2 hour minimum)
Repair of breakdowns
Data tracking of all service and repair requests
Long-term solutions to minimize downtime
Loading docks and their equipment require routine maintenance to avoid breakdowns that can hurt your workers and products and halt operations. Productivity equals profitability when it comes to loading, and you don't have room for downtime. When everything adheres to a strict schedule, even the most minor inconvenience can turn into hours of downtime.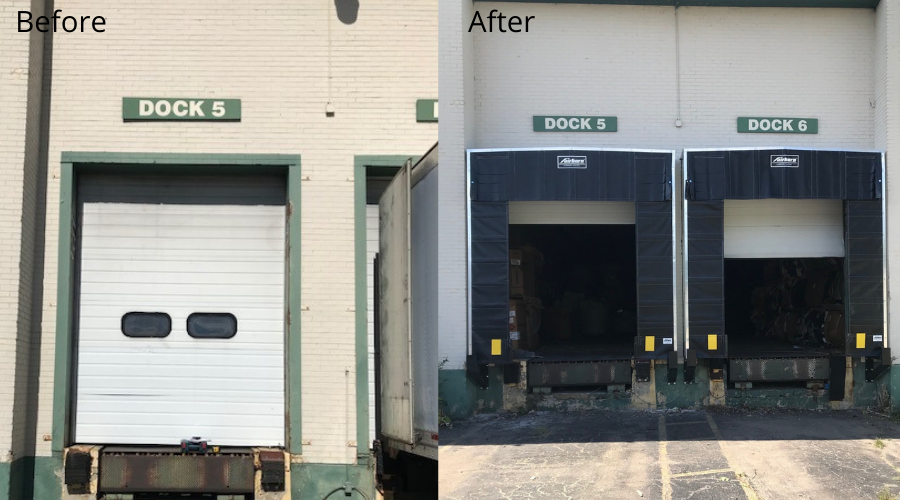 Dock and Door Planned Maintenance
Dock and door equipment needs to be consistently checked to prevent unexpected breakdowns. Our planned maintenance program offers service scheduled at regular intervals, which includes:
Cleaning
Lubricating
Adjusting
Safety Inspections
Documentation
The advantages of our planned maintenance schedules include:
Optimizes your dock equipment performance
Helps reduce the risk of accidents
Reduces unscheduled downtime and wasted productivity
Maximizes efficiency of your operation
Creates long-term cost savings
Fully trained service technicians maintaining your equipment
Work on all manufacturers and products to replace parts
Assistance in energy saving
Safe, clean area, which is required for food inspections
Emergency Dock and Door Service
At Vitan Equipment, we don't want a dock and door breakdown to cause downtime for your operations; that's why we offer 24-hour emergency response time. We'll prioritize your emergency service call, so your operations can continue as quickly as possible. Contact us today to have our team of experts service your equipment when you need it most.
Loading Dock Repair
With frequent use, your loading dock will eventually require repairs. We recommend using a technician with years of experience under their belt to complete your repairs efficiently and safely. Keeping your loading dock clean and well-maintained is key to avoiding hazards that can also halt production. We can service, maintain, and repair all brands of loading dock equipment. Our repairs cover a wide range of services. We provide the following repairs and more throughout Michigan:
Lip extension repair and preventative maintenance
Leveler replacement and repair
Spring replacement
Pump repair and replacement
Cylinder replacement
Hold-down repairs and replacements
If your loading docks are in need of repair, give us a call.
Schedule a Free Dock and Door Consultation with Vitan
Get in touch for a complimentary evaluation that will identify ways to reduce costs, detect deficiencies in product performance, and help upgrade your equipment to increase safety. Contact us today for a free consultation. Whether you know exactly what you need or need help finding the right solutions, we're here for you.
Grand Rapids
3480 Broadmoor Ave SE
Grand Rapids, MI 49512
South Plainfield
124 Sylvania Place
South Plainfield, NJ 07080
Canton
Corporate Headquarters
6865 Commerce Blvd.
Canton, MI 48187
Rochester Hills
2770 Research Dr.
Rochester Hills, MI 48309
Bridgeport
4670 Zelle Dr.
Bridgeport, MI 48722