Material Handling Equipment and Forklift Service
Our technicians receive a minimum 40 hours of training every year to stay up-to-date on best practices, new technology, and internal combustion and electric forklift knowledge. These technicians provide your fleet with on-site, same-day and 24-hour service. We assign a dedicated service advisor, biller, and parts representative to your account to provide consistent communication and account knowledge. You can trust our team to understand all the ins and outs of your equipment, so you get a straight line of communication about your forklift service. Contact us to schedule your forklift service.
Planned Maintenance Program
Planned maintenance (PM) programs are essential to minimizing downtime and keeping your lift trucks up and running. Depending on the condition of your equipment, we'll customize a plan that works best for your fleet. With 85 years of service experience, we bring a wealth of knowledge and expertise in addressing our customers' pain points.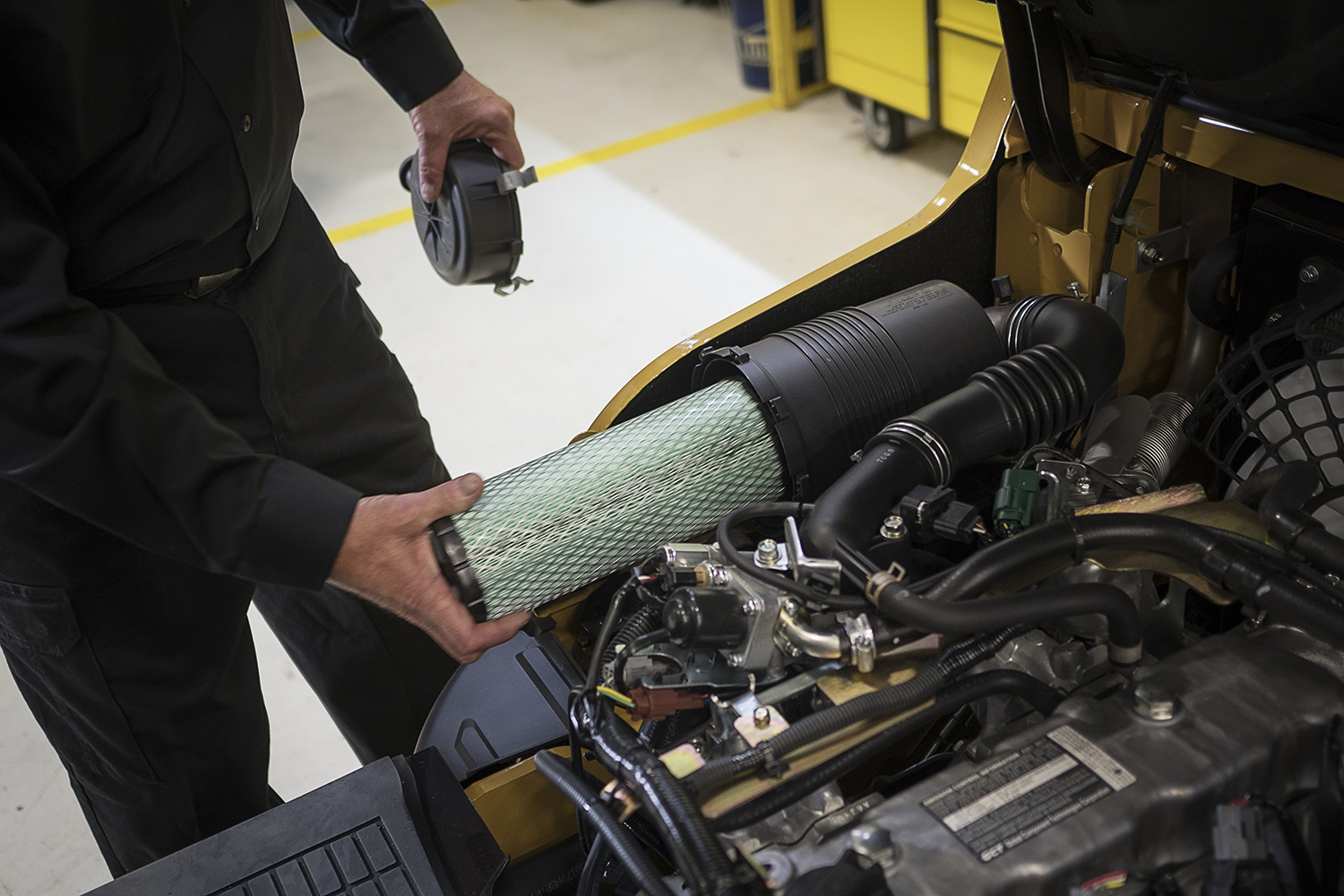 Our program includes:
Comprehensive multi-point inspections
A detailed, itemized issue report that is color-coded according to priority on every service
Identified methods and suggestions to minimize wear and tear throughout your work
Total Maintenance and Repair (TM&R) Services
When you own a fleet of forklifts, lift truck repairs and maintenance can get costly as the equipment ages. With our TM&R program, we customize your contract based on your fleet and the average operating hours of your trucks. For one flat maintenance fee per truck each month, all normal maintenance and repairs are covered for the life of the contract.
Benefits of a TM&R contract include:
Full-service equipment maintenance and repair for your entire fleet
One flat payment every month
Loaner equipment while we work on 72-hour repairs in our shop
Easy to forecast expenses
Elimination of unexpected, large expenses
Identifying avoidable damage
Our TM&R program allows you to spend less time thinking about your fleet and more time thinking about your business.
Our Shop for Forklift Service
While many of our technicians work on-site at our customers' locations, our in-house team works in our fully equipped warehouse to run diagnostics on trucks and perform any necessary maintenance to keep your equipment running smoothly. While we're working on your forklift repairs, we can provide you with our rental vehicles, so you never have to worry about downtime or suspending projects.
We also have access to a large inventory of over 150,000 material handling equipment parts.
Fleet Management Services
Fleet management is important to keep track of the life of your forklifts over time. All of our planned maintenance customers also receive exclusive access to our online fleet management system, Fleet Analyzer. Through this program, you'll receive all types of details about your total material handling equipment usage. You can then use this data to make business decisions, maximizing your output while minimizing risk, expenses, and other metrics. You'll be able to see exactly where you're spending money and how to optimize your operation.
With this insight, you can:
Decide if or how to rotate your equipment to maximize the life of your fleet
Determine operating costs and when they will exceed replacement expenses
Discover how much downtime costs and develop ways to eliminate it
Identify where operator errors may be occurring
Have documentation of unit expenses, spend and service invoices
Learn more about our Fleet Analyzer program on our Fleet Management page. Start taking care of your fleet the smart way. Our program is designed to save you money, time and hassle while keeping track of your day-to-day operations.
Contact Us Today
At Vitan Equipment, we're more than just a forklift dealership. We're here to help give your fleet and existing equipment a long lifespan. You shouldn't have to worry about breakdowns and costly replacements while you operate. We are a long-term material handling partner to our customers and have multiple locations, so you can focus on growing your business and dealing with your customers. Contact us today to see how Vitan Equipment can serve you.
Grand Rapids
3480 Broadmoor Ave SE
Grand Rapids, MI 49512
South Plainfield
124 Sylvania Place
South Plainfield, NJ 07080
Canton
Corporate Headquarters
6865 Commerce Blvd.
Canton, MI 48187
Rochester Hills
2770 Research Dr.
Rochester Hills, MI 48309
Bridgeport
4670 Zelle Dr.
Bridgeport, MI 48722