Automated Guided Vehicles (AGVs)
The future of material handling is here with Linde's AGVs
At Vitan, we carry industry-leading automated guided vehicles (AGVs) designed by Linde, so you can streamline your operations, improve your safety and increase your uptime. AGVs are designed to integrate seamlessly with your team and current manual truck fleet. And with built-in laser navigation, you don't have to change anything about your existing floor work. With an AGV in your warehouse operations, you can increase your uptime and improve efficiency, all while saving on costs throughout the lifespan of the equipment.
Benefits of using AGVs in your facility:
Eliminates risk of operator errors and decreases preventable damage
Reduces long-term costs
Increases efficiency and minimizes breaks
Operates in conditions undesirable for skilled workers
Easy to phase into your operations
Choose the right automated guided vehicle for your business
Our team will help guide you through choosing the right AGV for your application.
Automated Tow Tractor P-Matic
The Linde P-Matic automated electric tow tractor is designed to transfer loads in areas with limited space. With an 11,000-pound towing capacity, the P-Matic is ideal for facilities that require the delivery of materials, disposal of waste products or hauling of loads on a regular basis. This tow tractor can run with or without an operator.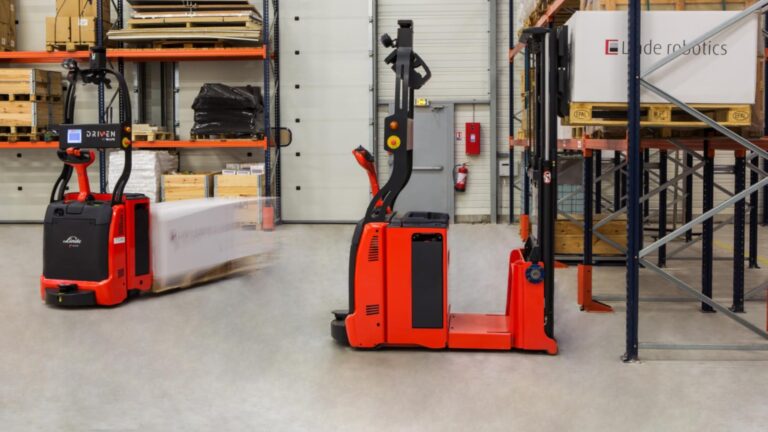 How to get started
At Vitan, our team of experts will thoroughly review your current fleet and facility infrastructure to help you determine your equipment and power needs as you transition to AGVs. From our sales representatives to our field service advisors and technicians, we have a strong team with highly trained individuals who can not only make sure you have the right equipment and infrastructure in place but provide ongoing planned maintenance at regular intervals to make sure your equipment, facility, and batteries and chargers are always in the best shape possible.
Making sure you're powered right
If you make the exciting decision to start phasing electric AGVs into your operations, our in-house motive power division can handle all your power needs moving forward. As the only authorized Triathlon dealer in southeastern Michigan, we have the resources and expertise to supply and service all your batteries and chargers. That means our partnership doesn't stop when we deliver the equipment.
To learn about how the various equipment services we provide can set your fleet up for long-term success, visit our equipment services page.
Vitan's Electric Promise
Our mission is to be the best service organization, period. As part of that service, we are adding a focus towards serving a larger purpose than just our business and our customers. Creating a healthier, safer world is a goal we all should have in mind. To that end, we at Vitan are committing to building a more environmentally sustainable business by making an "Electric Promise." This promise will ensure a cleaner and healthier world for generations to come; it will also improve your bottom line by lowering your total cost of ownership (TCO) and increasing your equipment's lifespan.
Learn more about our Electric Promise here.
Talk to a Vitan representative today
Whether your key decision makers are ready to make the switch to AGVs or you're interested in talking to a Vitan representative about what adding just one AGV could mean for your operations and bottom line, we can be there for you as a trusted and reliable material handling partner.
Visit our Contact Us page to send us your contact information and an expert will be in touch with you soon. Let's automate your world.