Forklift Safety Tips to Avoid Accidents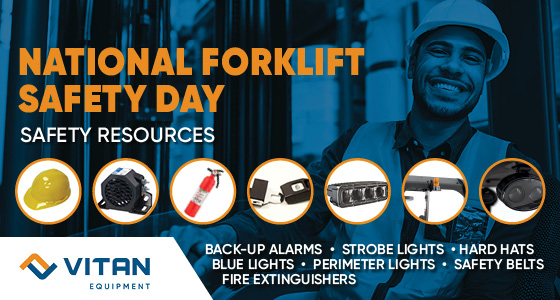 Forklift safety is important for the wellbeing of operators and pedestrians. Using common sense in a warehouse with heavy machinery and heavy equipment around is a good first step toward being safe, however, a lot of forklift safety best practices may not come naturally. To help keep you prepared, we have compiled all of our best tips here so you can stay safe in the workplace.
Forklift Safety Features You Should Have
Every forklift comes equipped with standard safety features that protect the driver while in operation. Safety features like seatbelts and reverse alarms are standard on every forklift, but there are options for add-ons to increase your efficiency and safety.
Basic Forklift Safety Features
Every forklift comes equipped with standard safety features that protect the driver while in operation. One of the most important standard safety features is the seatbelt. Another important standard safety feature on forklifts is the reverse alarm. Visibility is important not only to operators, but to pedestrians as well. While an operator is traveling in reverse, their visibility is limited. The reverse alarm makes it easier for drivers to let pedestrians and other operators know that they are backing up and to remain a safe distance away from the forklift.
Additional Safety Features for Your Fleet
While a putting on a seatbelt feels like second nature to most, you will find that many operators choose not to. Switching out the standard seatbelt for an orange belt will make the seatbelt more visible and hold operators accountable. In addition to the reverse alarm on your truck, lights are another option to increase safety. If the workplace is too loud, pedestrians and operators won't be able to hear the alarm while the operator is backing up. Trucks are already equipped with standard safety lights, but blue safety lights can be added to increase visibility to pedestrians. Blue lights can be placed in front of or on the rear of the forklift and shine on the floor to alert others that a forklift is approaching.
Forklift Fork Inspection and Safety
When is the last time you inspected your forklifts' forks? Keeping them in good condition is essential to the safe and efficient operation of your forklift fleet.
Forks are one of the most used items on a forklift and businesses are often not aware of their forks' condition or quality. This useful forklift fork inspection guide will help you avoid pitfalls once you begin ramping up production.
Forklift Operator Safety Tips
Driving Safely
According to the Occupational Safety and Health Association (OSHA), approximately 70 percent of all forklift incidents in the United States could be avoided with proper safety training and policy. Our sister company, Fraza, has a series of operator safety videos giving their top tips for safe driving. You can find a link to the playlist below!
Driving with Forks
When driving a forklift, it's important to keep the forks at a safe height off the ground. MI-OSHA recommends keeping them between 2 – 4 inches and tilted slightly back. This height reduces the potential for seriously injuring any pedestrians in the upper leg or torso. Also, always remember to activate the horn when heading towards people so that they hear you coming.
Parking with Forks
Forks should always be in the tilted downward position when parked. The best way to achieve this is for the operator to tilt them forward before lowering them to the ground. Lowering to the ground then tilting forward puts stress on the mast pulleys and hoses when raised by the next driver. This can cause damage to your forklift over time.
View the Fraza forklift operator safety video playlist below.
Warehouse Pedestrian Safety Tips
While not everyone in the material handling industry may be operating a forklift, it is likely that you will find yourself in a warehouse at one time or another, and it's important for us to pay close attention to our surroundings at all times to keep ourselves and others safe.
View the Fraza warehouse pedestrian safety video playlist below.
Contact Vitan Equipment for Your Safety Needs
Whether you want to add additional safety features to your fleet, or you would like to train your forklift operators on up-to-date safety best practices, Vitan Equipment has you covered. Contact us today to get in touch with one of our safety experts!